Moderator: Editors
Editor Emeritus
Posts: 3245
Joined: December 31, 1969, 08:00:00 PM
Location: Kaukauna, Wisconsin (USA)
Contact:
Please read and enjoy our latest issue.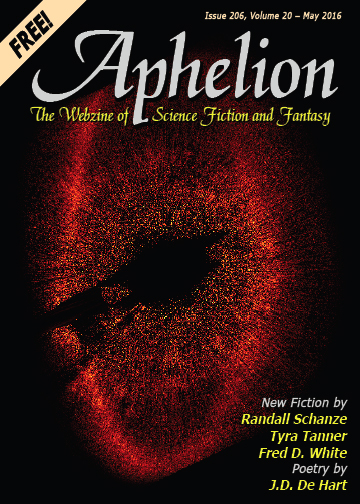 Long Fiction Editor
Posts: 2734
Joined: January 11, 2010, 12:03:56 AM
Location: by the time you read this, I'll be somewhere else
Randy, welcome to the 'zine, and thanks for joining. I have a feeling you'll have some entertaining and interesting input.

Nice that you're jazzed about seeing your story here. Hope you still feel as enthused when I'm done critiquing it, LOL!
I was raised by humans. What's your excuse?
Welcome to Aphelion Randy. I glad that one of your story got published here at Aphelion, and I'm sure it will be the start of a long list of your stories here and at other 'zines.

Good job!!
Tesla Lives!!!